The Front Page Cover 
"I pray that the eyes of your heart may be enlightened"
.
Featuring:
The Media's Vile Attacks on 
Conservative Assimilationists
Michelle Malkin
.
"Know who you are standing with"
"Show me your friends and I'll show you your future"
~~~lll~~~
.
 New Yorkers Say 'No' to SAFE Act 
The New York State Police initially shot down inquiries into how many "
assault weapons
" have been registered with the state after its legislature enacted the SAFE Act in 2013, and we now have a pretty good idea why — because compliance is abysmal. On 
April 30
, New York Supreme Court Judge Thomas McNamara ordered the State Police to disclose registration statistics. According to the figures, which were made public this week, just 23,847 gun owners have registered a total of 44,485 military-looking weapons. For perspective, that's less than the 50,000 firearms registered under a similar law in Connecticut. Keep in mind, Connecticut has a population of 3.6 million, according to the Census Bureau. New York's is 19.8 million. Just a small disparity. Keep in mind also that New Yorkers own somewhere around 1,000,000 of these so-called assault rifles, which would mean just 4% of eligible firearms have been registered. Leah Barrett, executive director of New Yorkers Against Gun Violence, tried to put a positive spin on the numbers, responding, "Tens of thousands of people have complied with the law. That's important. It shouldn't be overlooked." What shouldn't be overlooked either is that the overwhelming majority of New Yorkers are exercising civil disobedience by rejecting a blatantly unconstitutional law. And they aren't afraid to be jailed for it, either. 
 -The Patriot Post  
.
.
 Pope's Science Adviser's Political Agenda Exposed 
An old adage from the Gospel of Matthew warns, "Beware of false prophets, which come to you in sheep's clothing, but inwardly they are ravening wolves" (
7:15
). Unfortunately, Pope Francis did just the opposite when writing the environmental portion of his 
encyclical
. Microbiologist Hans Schellnhuber is a science adviser to the Vatican, and also a fraud. Schellnhuber is in fact a strong believer in the Gaia hypothesis — in a nutshell, the worship of Mother Earth. "When Francis' encyclical was leaked last week, we wondered if his position on the man-made global warming question was 'a misuse of the authority of the Roman Catholic Church and the church at large,'" 
writes
 the Investor's Business Daily editorial board. "Our conclusion has only been solidified by the revelation that the pope was in league with Schellnhuber. ... From atheists to strong-arm redistributionists, this pope is unequally yoked with those who don't share the tenets of his faith — but who are happy to use that faith to achieve their political aims. Yes, there's truly something wrong here."  
-The Patriot Post  
.
.
 NEW POLL, NEW TROUBLE FOR HILLY IN EARLY STATES 
How far left will 
Hilly Clinton
 have to go to placate her party's base? While Republican frontrunner 
Jeb Bush
 has the advantage of his party's conservative wing 
fragmenting
 rather than consolidating, Hilly Clinton is watching the left side of her party coalesce around Sen. 
Bernie Sanders
. The latest Fox News poll shows Sanders still trailing Clinton nationally, with 15 percent to her 61 percent, but in the crucial early primary states of Iowa and New Hampshire we see the big gains for the Vermont socialist.
          A pair of new polls from Bloomberg and local media partners in the states with the first two nominating contests shows Sanders slicing Clinton's lead. He now boasts a quarter of the vote 
in New Hampshire
 and 
in Iowa
. Sanders is perhaps even less likely than newly minted GOP candidate 
Donald Trump 
to be his party's nominee, but Sanders may have a greater effect on the outcome. So far, Democrats are still spurning the entreaties of former Maryland Gov. 
Martin O'Malley
. But Sanders' strength combined with Clinton's endless ethical problems continues to show that there is room in the party for a real challenge. While time is running out, there are still probably a couple of months for a person with high name identification to jump into the race – we're looking at you loose lips 
Joe Biden
 and Indian 
Elizabeth Warren
.
          So how many flops must Clinton flip before her party is satisfied that she will not sprint to the middle in the general election? And on what topics? While Clinton has been a perfect pander bear on social issues, touting her hatred for the Confederate Battle Flag and deep, if newly acquired, support for same-sex marriage, will she be forced to take damaging stances on tax rates, government-run insurance and other items that could do her damage against the eventual GOP nomination?
          There's still almost no scenario in which Clinton doesn't end up as the nominee, but the condition in which she arrives and what new liberal positions she is obliged to pack in her baggage when she gets there are now very much up in the air.  -Fox News
.
.
 Webb defends - 
"The Confederate Battle Flag has wrongly been used for racist and other purposes in recent decades. It should not be used in any way as a political symbol that divides us. But we should also remember that honorable Americans fought on both sides in the Civil War, including slave holders in the Union Army from states such as Missouri, Kentucky, Maryland and Delaware, and that many non-slave holders fought for the South." – 
Former Sen. Jim Webb, D-Va., in a statement.  
 -Fox News
.
.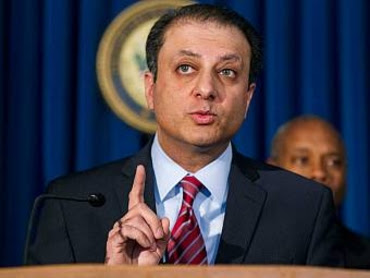 US Attorney Bharara of the Southern District of New York
 The Eye of the Goon                                                                                        
(steynonline.com) ~ Guest-hosting The Rush Limbaugh Show last week, I mentioned an outrageous and very direct assault on free speech by the Government of the United States...
 As I said on the air, federal prosecutors are demanding Reason, the libertarian mag, cough up any identifying information on readers who posted comments in relation to the Silk Road case. That was the trial in which the Silk Road drugs impresario, Ross Ulbricht, wound up being sentenced to life in prison without the possibility of parole. This would not happen, obviously, in Sweden or New Zealand or anywhere else, but even by the standards of American courtrooms it was unusual: Judge Katherine Forrest gave Ulbricht a tougher sentence than the prosecution had asked for. Commenters at Reason, who aren't big on the "war" on drugs, were unimpressed by Judge Forrest:      
http://www.steynonline.com/7018/the-eye-of-the-goon
.
 ISIS in Jerusalem                                                                                                   
(israeltoday.co.il) ~ Flyers made their appearance in the North Jerusalem neighborhood of Beit Hanina on Thursday last week, signed by the "ISIS in Palestine" organization, with threats against Arab Christians of the area... 
Christians are threatened with slaughter if they do not evacuate the area by Eid al-Fitr, marking the end of Ramadan. The flyer went on to say that one month is enough time and warning for Christians to flee the area to avoid a massacre. The news of the flyers spread quickly amongst the Arabs in Israel on social networks. Some expressing doubts at the authenticity of the flyers while others took the warning seriously. There are groups of Arabs, both christian and Muslim, that either do or don't believe that there is an active branch of ISIS in Jerusalem. One local Arab, on condition of anonymity, said to Israel Today that, "it may simply be an attempt to intimidate local Christians. I do not fear. We are here in Israel, I do not think that Israel will allow that," he added.      
http://www.israeltoday.co.il/NewsItem/tabid/178/nid/26879/Default.aspx
.
 Isis Expansion Along U.S. Borders                                                               
(siouxlandnews.com) ~ Our southern border is long and U.S. border patrol agents work to fight illegal activity like illegal immigration, drugs and now according to an FBI consultant, the border could be an attractive region for ISIS thanks in part to powerful drug lords...
 "Drug dealers have found a way to move money without it being followed," said Tyrone Powers, Former FBI Agent. "They found a way to move people in and out and they found a way to move product." That product powers refers to is tons and tons of meth, heroin and pot transferred through a labyrinth of tunnels from Mexico. Drugs that are headed for the streets of the U.S. But these tunnels could easily be an underground highway for ISIS to spawn its brutality here.        
http://www.siouxlandnews.com/story/29413634/isis-expansion-along-us-borders
.
 Texas two step and Recusal Refusal at Supreme Court                           
(Suzanne Eovaldi) ~ This week's Supreme Court decision in regard to legitimacy of homosexual marriage just well may be illegitimate itself whatever way the Court decides...
 And because of this very fact, 2016 and its crucial election must include initiatives to institute TERM LIMITS for SCOTUS along with a swift and very definitive process for removal of any member of the U.S. Supreme Court! Just consider the fact that their rabid feminism pushed both Justice Ruth Bader Ginsburg and Justice Elena Kagan to "marry" two same-sex couples though they knew full well they were being called upon to give definitive judgment in the Obergefell case. Also, "Justice Ginsburg had gone so far as to strongly suggest in public that the time for same-sex marriage had arrived." (1) Both female judges are insulting America's highest legal authority, insulting ethical restraint in regards to conflict of interest, insulting the American family and, in fact, insulting the basis of our country's rule-of-law underpinnings.      
http://www.coachisright.com/texas-two-step-and-recusal-refusal-at-supreme-court/
.
 Lawmaker: Congress can halt same-sex 'marriage' in tracks                     
(Bob Unruh) ~ A state lawmaker with expertise in constitutional issues says there's a strategy that would allow Congress to halt the legalization of same-sex "marriage" by the U.S. Supreme Court in its tracks...
But Virginia Delegate Robert G. Marshall contends Congress "can immediately take action on a strategy to block the nObama administration's implementation of the court's decision through the use of riders to appropriations bills which will come before Congress this summer and fall." 
"Suggested by James Madison, both liberals and conservatives have successfully used this strategy to change public policy over the past 50 years," he wrote. "This approach is constitutional. It can be set in motion within days, if not on the very day of a Supreme Court decision. … And, if pursued by defenders of real marriage, this approach will require every 2016 congressional and presidential candidate to take a position on marriage." 
The Founders' Constitution ... it's not dead yet!
 America's only remaining choices – civil disobedience or collapse           
(Lawrence Sellin) ~ The United States no longer has, as the Constitution designed, a government composed of executive, legislative and judicial branches, separate, but equal in power...
 The federal government is now an alliance of branches, devoted to the preservation of government itself, separate, not from each other, but from the American people and dedicated to tyranny. The policies pursued by the Obama Administration and facilitated by cowardly politicians and a compliant media are not simply the intersection of radical ideology and incompetence, but a dangerous subversive element of an anti-American and anti-Western strategy.      
http://www.trevorloudon.com/2015/06/americas-only-remaining-choices-civil-disobedience-or-collapse/?utm_source=feedburner&utm_medium
.
 Former NAACP President defends Confederate flag                                    
.
 It Starts: Liberals Dictate Gay Marriage Beliefs                                               
(leanrightamerica.org) ~ When the Supreme Court came down Friday with their unconstitutional ruling on gay marriage, they did more than merely make state bans a thing of the past. As was feared by the dissenting judges (and a whole host of critics), they also changed the way you can think, feel, and talk about the subject...
 The change won't come all at once, but it's not going to be subtle, either. The president's speech was not the only indication that things are getting ready to change. Harrisburg, Pennsylvania's The Patriot-News decided Friday that they would no longer print letters to the editor that expressed opposition to gay marriage. The backlash was swift, leading the editorial board to make a quick but rather insignificant amendment to the policy. "Clarification," wrote Editor John Micek, "We will not foreclose discussion of the high court's decision, but arguments that gay marriage is wrong/unnatural are out." So in other words, you can disagree with the ruling on legal grounds, but there is no more room for debate when it comes to the morality of the decision. Just like that, it's no longer okay to be against gay marriage in America. And while you can argue that this is just one small newspaper, it's an argument that ignores history. This is always the way it starts. In another five years – and that's a very conservative estimate – opposing gay marriage will be akin to opposing racial integration. This is exactly what Christian leaders warned us about. It's the exact slippery slope that every liberal promised was not going to happen. Now it's here.        
http://www.leanrightamerica.org/uncategorized/it-starts-liberals-dictate-gay-marriage-beliefs/
.
 Gays launch their dreamed of attacking the Catholic Church's Marriage 
(Kein 'Coach' Collins) ~ It is my deepest wish that none of the following should ever happen, but logic says it will...
 The Supreme Court has taken its place at the head of the charge to destroy the Roman Catholic Church in America. Under all the impassioned arguments about "love winning out" the leering minions of hate and lies have won a major victory. Now they can gather their forces to attack their real enemy, the one that has always been the unspoken target: The Roman Catholic Church in America. For all its faults and self-inflicted damage, the Catholic Church in America is still the last significant obstacle to the left's dream of destroying morality in our nation.  The SCOTUS decision to legalize violating God's law has put the Catholic Church in a corner that the whole country had better hope She can get out of.        
http://www.coachisright.com/gays-will-launch-their-long-dreamed-of-attack-on-the-catholic-church-demanding-marriage-by-priests
.
 Overthrow the Judicial Dictatorship                                                                  
(Cliff Kinaid) ~ Commentators have missed the real significance of Justice Antonin Scalia's dissent in the gay marriage case. He calls the decision a judicial "Putsch," an attempt to overthrow a form of government—ours... His dissent, joined by Justice Clarence Thomas, was written "to call attention to this Court's threat to American democracy." His comment about the Court using the kind of reasoning we find in a fortune cookie is a funny line. But there is much of the Scalia dissent that is not funny and which serves as a warning to the American people about what the Court has done to us. Scalia understands the power and meaning of words and he chose the word "putsch" for a specific purpose. One definition of the term means "a secretly plotted and suddenly executed attempt to overthrow a government…" Another definition is "a plotted revolt or attempt to overthrow a government, especially one that depends upon suddenness and speed."
.
The Media's Vile Attacks on 
Conservative Assimilationists
Michelle Malkin
.
.
     (freedomsback.com) ~ I have had enough of smug liberal elites wrapped in their "Celebrate Diversity" banners tearing down minority conservatives.
.
     Look in the mirror, media and academia bigots. Your own reflexive racism and divisive rhetoric are poisoning public discourse. There's nothing "progressive" about attacking the children and grandchildren of immigrants who proudly embrace an American identity.
.
We are not "self-hating." You just hate what we believe.
.
     The most recent grenade tossed by the jack-booted Enforcers of Ethnic Authenticity came from The Washington Post this week. The Beltway fish-wrapper hyped a 2,100-word investigation of GOP Louisiana Gov. Bobby Jindal with a condescending quote from Professor G. Pearson Cross, who sneered: "There's not much Indian left in Bobby Jindal."
.
     Has pallid Professor Cross invented an ambient diagnostic test to measure sufficiently acceptable levels of ethnicity?
.
     The Post quoted a grand total of one disgruntled Democratic donor who railed against Jindal for "forgetting" his "heritage" and his "roots." But that was more than enough for the apartheid-lite adherents to heed the dog whistle immediately. The Post's splashy attack on Jindal's assimilationist ethic spawned a vile Twitter hashtag game: #BobbyJindalIsSoWhite.
.
     Left-wing racists mocked his skin color, his kids and his decision to change his name from "Piyush" to "Bobby." A New York Times digital editor, Shreeya Sinha, gleefully linked to a BBC compilation of "The best of #BobbyJindalisSoWhite." NBC News gloated over tweets from liberal Indian-Americans who mocked the accomplished governor, Rhodes scholar and father of three as a "Jindian."
.
     It's the same old, same old from radical academics and reporters who spurned assimilation as a common goal long ago. As I've long observed, the media-ivory tower complex's fidelity lies with bilingualism (a euphemism for native language maintenance over English-first instruction), ethnic militancy, extreme multiculturalism and a borderless continent.
.
     If we conservatives "of color" refuse to promote the welfare state, unfettered abortion, affirmative action and massive immigration, we are guilty of "selling out."
.
     Conversely, if I point out that my skin is far darker than that of the TV progressives of pallor who presume to know more than me about what it's like to experience prejudice, I'm accused of exploiting my ethnicity.
.
     We're coconuts, bananas and Oreos (brown, yellow or black on the outside and "white" on the inside).
.
     We're accused of "thinking" and "acting" white if we quote the Constitution, shoot, hunt, oppose high taxes, homeschool, take personal responsibility or demand that government leave us alone.
.
     You can't win with these insane identity-mongers who preach compassion and peace while practicing vicious demagoguery. Black conservatives are "Uncle Toms." Jindal is an "Uncle Bobby." And GOP Gov. Nikki Haley, born to Indian Sikh parents, has been derided as a "female Uncle Tom." Jindal is "trying to be white" even though his parents are Indian and his wife's parents are both from India. Meanwhile, haters have accused me of being an "Auntie Tomasina" for marrying outside my race and taking my husband's name.
.
     Marriage choice and marriage equality are sacred rights for everyone except minority conservatives.
.
     Jindal and Haley are just the latest targets. Last month, it was son of Cuban immigrants Ted Cruz. White liberal journalist Mark Halperin took it upon himself to drill Texas GOP Sen. Cruz on his "favorite Cuban food" and demanded that he welcome socialist Sen. Bernie Sanders to the presidential race "en Espanol."
.
Que estupido.
.
     The civility police and tolerance mob find nothing wrong with their ad hominem assaults and vulgar litmus tests. They're just trying to make the world safe from the liberated minds of minority conservatives. Those of us who dare to succeed in America without relying on tribalist entitlements must be dragged back and down by the resentful, seething crabs in the collectivist bucket.
.
We are scorned for abandoning the militant hyphenated fetishism of the left.
.
     We are punished for rejecting rigid boxes and boundaries and one-drop blood rules and permanent castes.
.
     Assimilation is a Class A felony in the liberal rule book and a threat to the Democratic grievance racket. Tell me who the real racists and bigots are again.
.