Be sure to Click LIKE at the bottom of this article, and share it everywhere!!
By Craig Andresen – Right Side Patriots on American Political Radio
So…President Trump's Supreme Court pick has been made…Judge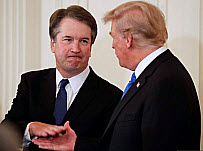 Brett Kavanaugh…and predictably, liberals went bat-crap crazy.
Liberalism, it has been said, is a mental disorder…but with this Supreme Court nominee, liberals have taken that disorder to a whole new level.
The response from liberals to the naming of Kavanaugh as the President's choice to fill the seat soon to be vacated by the retiring Justice Kennedy was astounding, absurd and instant, which in its own way highlights the abject insanity of today's liberals.
Hours before the announcement, a Conservative reporter stood on the streets of NYC and asked brain-numbed, liberally indoctrinated students what they thought of President Trump's choice…even though no name was mentioned, and no choice had yet been announced.
And yet…