Be sure to Click LIKE at the bottom of this article, and share it everywhere!!
By Craig Andresen – Right Side Patriots on American Political Radio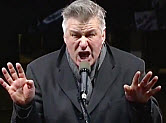 "In an orderly and formal way, and lawful way, we need to overthrow the government of the United States under Donald Trump."
Those were the words last weekend of alleged actor, Alec Baldwin.
There is no "lawful way" to "overthrow the government of the United States." We have elections which lead to a peaceful transfer of power in these United States. We do not…"overthrow" the government.
Liberals, of which Baldwin is most certainly one, seem to think that if they don't win an election…the overthrow of the government is their next option, and because things in this country are much, much better now than they were under Obama regime, for liberals…overthrowing the government may well be their only option.