By Craig Andresen Right Side Patriots http://www.americanpbn.com/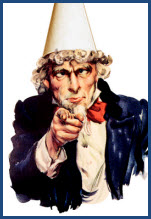 It seems that the dumbing down of America, via decades of liberalism through government indoctrination centers otherwise known as public schools as well as asylums of higher indoctrination, also known as colleges and universities is nearly complete.
No greater evidence of this can be seen than in the results of Super Tuesday voting.
Donald Trump, with the highest disapproval ratings in history, continues to win primaries. The question is…why?
Here's the answer…
Trump voters simply don't give a damn about the issues and they don't give a flying rat's ass about Trump's complete, total lack of substance or lack of any articulated plan to accomplish any of the myriad of things he says he's going to do should he become the president.
Trump voters also don't give a crap regarding the fact that poll, after poll, after poll shows him losing in November to whoever happens to become the liberal/socialist nominee.
To Trump's Trump-drunk, low information voters…absolutely none of what should matter…matters at all and don't blame me for calling his voters "low information voters because those are exactly the sort of voters Trump himself is reaching out to in this election.
Here's what he said…