By Craig Andresen – The National Patriot and Right Side Patriots on americanpbn.com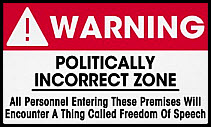 As we draw closer and closer to the first primary elections of 2016, now just a month away, there are some things which must be said. Things that will rile some, anger some and distress some who purport to be on our side of this election matter.
I really don't care if I offend them as being politically correct has never been in my wheelhouse. I don't pander…not even to those who are either on our side or to those who pretend to be on our side.
I'm talking about low information voters.
There are far, far too many who claim Conservatism as their political ideology who are being duped, led like sheep to a slaughter and it's high time somebody said something.
They are being led by trolls…by plants whose goal it is to disrupt and destroy any chance of a Republican victory in 2016 and their intention is clear to see…they are trying to split the vote and in desperation, since their real agenda I suspect, lies with the liberals, they are expediting their wave of nonsense before the first primary votes have been cast.