Be sure to Click LIKE at the bottom of this article, and share it everywhere!!
By Craig Andresen – Right Side Patriots on American Political Radio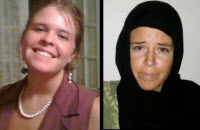 Kayla Mueller, 26, was a humanitarian worker from Prescott, Ariz., who was captured by al Baghdadi's ISIS forces while leaving a hospital in Aleppo, Syria, in 2013. It is believed that she was tortured until she died some 18 months later.
Mueller's father, Carl, said on Sunday, "She was held in solitary confinement. She was tortured.  She was intimidated. She was ultimately raped by al-Baghdadi himself."
Mueller's mother, Marsha Mueller, praised President Trump and the Special Ops commandos who raided the al Baghdadi compound over the weekend and stated that "if Obama had been as decisive as Trump," Kayla may still be alive.
To be fair, al Baghdadi ordered the murders of thousands, including American journalists James Foley, and Steven Sotlof, Kayla Mueller, and Jordanian pilot Muath Al-Kaseasbeh who was burned alive in a cage.
Sunday morning…