By Craig Andresen – Right Side Patriots on American Political Radio
I would like to take a moment, to address the myriad of morons who are mulling over burning an American flag.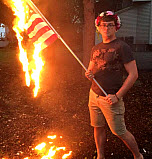 While the United States Supreme Court has issued a ruling that flag burning is a right, protected by our 1st Amendment…there are a few things that you should know…and I'll get to those in a little bit.
Before I do though, let's first examine why, exactly, you people are doing what you're doing, because it's important to have the facts before we proceed.
You bunch of brainless buffoons are burning American flags because…you are disgruntled…but over what exactly?