By Craig Andresen – Right Side Patriots on American Political Radio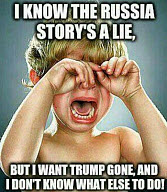 Liberals are desperate. That's nothing new, but their desperation is growing by the day, if not by the hour, and they're getting their socialist collective panties all wadded up.
In fact, they've become so desperate that they are now willing to blame President Trump for…any and everything that they, themselves do, regardless of how transparent the lie.
Take what happened in Hawaii last weekend as an example.
Last weekend, some numb-nuts issued an incoming ballistic nuclear missile alert that resulted in panic for the citizens of the Socialist Republic of Hawaii. Then, about 38 minutes later…