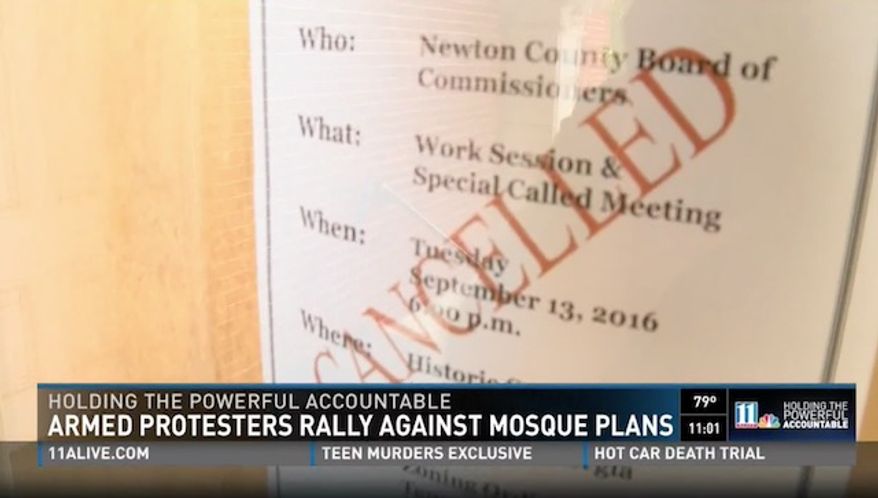 Officials in Newton County, Georgia, canceled a meeting Tuesday to discuss lifting a moratorium on construction plans for a mosque after a video surfaced online that they considered threatening.
The video was filmed by 42-year-old Chris Hill at a church across from the site of the proposed mosque in Covington, where an armed protest was being held, NBC News reported.
"I was just shooting from the hip is what I was doing, and saying, 'Right over there, this is going to be a future [Islamic State] training group. This is where you're going to see terrorism taking hold in Newton County,'" Mr. Hill, a Marine veteran who leads the local chapter of a militia group called III% Security Force, told NBC News. "It's tied to terrorism, everything from 9/11 to Boston bombings to the Fort Hood shooting, to the coup in Turkey. It's all connected."
Mr. Hill was reportedly carrying a firearm in the video and he threatened to hold an armed protest outside the commissioners' meeting. He took down the video after a churchgoer expressed concern that the people in the video could get in trouble, NBC News reported.
Newton County officials decided to cancel the meeting scheduled for Tuesday, citing security concerns.
"Unfortunately in today's society, uncivil threats or intentions must be taken seriously," Newton County Manager Lloyd Kerr said in a statement.
read more:
http://www.washingtontimes.com/news/2016/sep/14/meeting-on-georgia-...