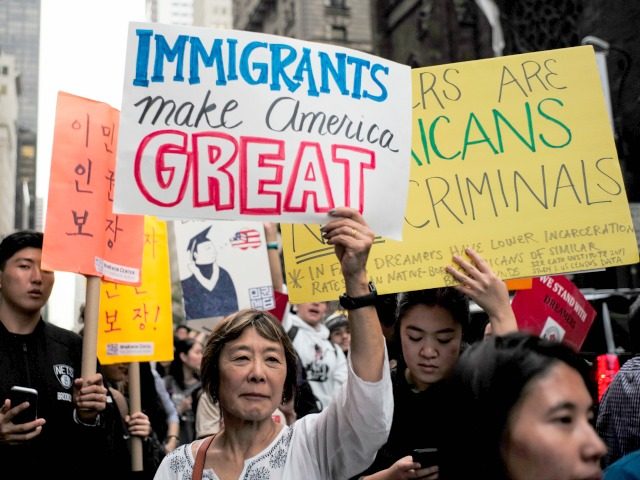 Say: "Our Lives Are In Danger, Reject the Anti-Immigrant Plans Being Pushed by Trump and Goodlatte — We Need the Dream Act Now!"


Washington, DC – Today, 150 immigrant youth from across the country took to Capitol Hill to visit the offices of Republicans in the House of Representatives.
When Trump killed DACA, he put the lives of millions of young people in immediate danger. Since then, over 17,000 have lost their protections from deportation and over 850 more become vulnerable to deportation agents every week. All told, millions today, who would qualify for the Dream Act have no protection from deportation today.
Now, Trump is holding the lives of these immigrant youth hostage unless the nation accepts their white supremacist plan to deport more immigrants, eliminate family based immigration and create barriers to keep many Black and brown immigrants out.
The young leaders of United We Dream visited many House Republicans to urge them to reject the Trump plan and pass a narrow and focused solution with wide bipartisan support: the Dream Act. The bill would create a pathway to citizenship for immigrant youth without hurting other immigrants.
See photos on United We Dream's Twitter.

Immigrant youth from states like Florida, Oregon, New York, Arizona, Kentucky, Texas, Minnesota, Oklahoma, California, Tennessee, Idaho and more visited the offices of Representatives such as Mimi Walters (CA-45), Michael Simpson (ID-2), Erik Paulsen (MN-3), Ed Royce (CA-39), Dana Rohrabacher (CA-48), Darrell Issa (CA-49), Daniel Donovan (NY-11), Tom Reed (NY-23), Chris Collins (NY-27), Paul Cook (CA-8) and more.

Nestor Gomez Jimenez, who would qualify for the Dream Act and resident of Brooklyn Park, MN, said:
"Today, I returned to Representative Paulsen's office to ask him once more to take action that would protect his constituents, like me, from deportation. I grew up in Brooklyn Park all of my life and have always been involved in my community. I've even asked the Representative's office to hold town halls so they could meet with the immigrant young people in his district who are now living in danger.
"His constituents are tired of waiting while Congress plays politics with our lives. We need Rep. Paulsen to get behind the Dream Act now if he's serious about his support for us."
Abril, who is from California and would qualify for the Dream Act, said:
"I talked to staff from Congresswoman Walter's office. She needs to understand that the Trump plan would hurt immigrant families. I currently live in California where 230,000 individuals out of 800,000 are DACA beneficiaries. Since I have DACA, passing the Dream Act would give me the opportunity to continue my education and become a dentist."
Today, children of illegal immigrants visited the offices of:
Rep. Scott Taylor (VA-2)
Rep. Adam Kinzinger (IL-16)
Rep. Chris Smith (NJ-4)
Rep. Chris Stewart (UT-2)
Rep. Frank LoBiondo (NJ-2)
Rep. Tom MacArthur (NJ-3)
Rep. Mimi Walters (CA-45)
Rep. Patrick Meehan (PA-7)
Rep. Rodney Davis (IL-13)
Rep. Michael Simpson (ID-2)
Rep. Bruce Poliquin (ME-2)
Rep. Erik Paulsen (MN-3)
Rep. Ed Royce (CA-39)
Rep. Dana Rohrabacher (CA-48)
Rep. Peter Roskam (IL-6)
Rep. Kevin Yoder (KS-3)
Rep. Justin Amash (MI-3)
Rep. Darrell Issa (CA-49)
Rep. Daniel Donovan (NY-11)
Rep. Tom Reed (NY-23)
Rep. Chris Collins (NY-27)
Rep. Steve Womack (AR-3)
Rep. Paul Cook (CA-8)
Rep. David Joyce (OH-14)
Rep. Mike Gallagher (WI-8)
Rep. Tom Rooney (FL-17)
Rep. Greg Walden (OR-2)
Rep. Sean Duffy (WI-7)
Rep. Jaime Herrera Beutler (WA-3)
Rep. Cathy McMorris Rodgers (WA-5)
Rep. Mike Bost (IL-12)
Rep. Michael Turner (OH-10)
Rep. David Trott (MI-11)
Rep. Rodney Frelinghuysen (NJ-11)
Rep. Lee Zeldin (NY-1)
Rep. Lynn Jenkins (KS-2)
Rep. Darin LaHood (IL-18)
Rep. Brian Mast (FL-18)
Rep. Jim Renacci (OH-16)
Rep. Tom Emmer (MN-6)
Rep. Bill Huizenga (MI-2)
Rep. David Young (IA-3)
Rep. Earl "Buddy" Carter (GA-1)
Rep. Evan Jenkins (WV-3)
Rep. Roger Marshall (KS-1)
Rep. Devin Nunes (CA-22)
Rep. Duncan Hunter (CA-50)
Rep. Rob Woodall (GA-7)
Rep. Kevin Brady (TX-8)
Rep. Steve Russell (OK-5)
Rep. Brian Babin (TX-36)
Rep. Virginia Foxx (NC-5)
Rep. George Holding (NC-02)
Rep. John Ratcliffe (TX-04)
Rep. Louie Gohmert (TX-01)
Rep. Ted Budd (NC-13)
Rep. Jackie Walorski (IN-02)
Rep. Randy Hultgren (IL-14)
Rep. Patrick McHenry NC-10)
Rep. Michael Burgess (TX-26)
Rep. Jim Bridenstine (OK-01)
Rep. Sam Johnson (TX-03)
Rep. Tom Graves (GA-14)
Rep. Michael Conaway (TX-11)
Rep. Andy Biggs (AZ-05)
Rep. Vern Buchanan FL-16)
Rep. Scott Tipton (CO-03)
Rep. Blake Farenthold (TX-27)
Rep. Paul Ryan (WI-01)
Rep. Tom Cole (OK-04)
Rep. Doug LaMalfa (CA-01)
Rep. John Shimkus (IL-15)
Rep. Jack Bergman (MI-01)
Rep. Daniel Webster (FL-11)
Rep. Blaine Luetkemeyer (MO-3)
Rep. David Kustoff (TN-8)
Rep. Markwayne Mullin (OK-2)
Rep. French Hill (AR-2)

United We Dream is the largest immigrant youth-led organization in the nation, a powerful network made up of over 400,000 members and 48 affiliate organizations across 26 states. UWD's vision is to build a multi-racial, multi-ethnic movement of young people who organize and advocate at the local and national levels for the dignity and justice of immigrants