By Craig Andresen – Right Side Patriots on American Political Radio
Allow me, for a moment, to channel my inner snowflake…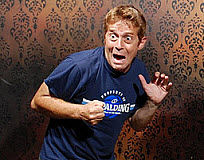 HOLY CRAP!!!!
This is bigger that Watergate,
This is potentially more devastating than Pearl Harbor…more of a disaster than 9/11.
It's bigger than the Hindenburg, Titanic, the San Francisco earthquake and Mrs. O'Leary's cow in Chicago all rolled into one.
And that cow was pretty good sized.
Hide the women and children, buckle up and put on your helmets…this is HUGE!!!