By Craig Andresen – The National Patriot and Right Side Patriots on americanpbn.com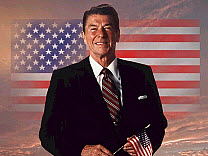 If America is to continue to be what Ronald Reagan described as, "the shining light on the hill," what we need, what we must have, is leadership. True leadership. We must have the sort of leadership that holds the vision of the Founders and Framers in the highest regard and the sort of leadership that realizes that our Constitution regulated government, not guns, placed strict limits on the power of the presidency rather than on the power of the people and made government accountable TO the people rather than making the people accountable to the government.
2016 could well be our last chance to reclaim the vision of our Founders and Framers. It could well be the last opportunity we have to save our exceptionalism and to save our liberties.
What we need, what we must have, is the sort of leadership that is laser focused on what's best for the nation, how to rebuild our place on the world stage, how to implement national security, rebuild the trust of our allies and how to stop our economic bleeding that is the result of too much government interference in every aspect of our personal lives, too many government mandated regulations and far, far too much government waste in our government's spending habits.
From the left side of the aisle, the candidates are Bernie Sanders, a confirmed and admitted socialist and Hillary Clinton, a corrupt politician who is under numerous investigations that could, should and I believe will result in indictments including espionage against the United States.