Be sure to Click LIKE at the bottom of this article, and share it everywhere!!
By Craig Andresen – Right Side Patriots on American Political Radio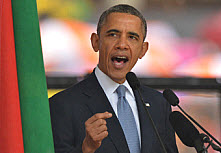 Last week, Hussein Obama delivered a speech in Johannesburg, South Africa, and while not mentioning President Trump by name, obviously aimed his comments at him.
At best, the speech was obtuse.
"Look around. Strongman politics are ascendant suddenly, whereby elections and some pretense of democracy are maintained, the form of it, but those in power seek to undermine every institution or norm that gives democracy meaning."
With all due disrespect intended…not every leader of the Free World can be as weak, and as ineffectual as Hussein was during the 8 years of his regime…and good leaders don't even want to try.
Hussein said that "strongman politics" is on the move. "It's on a move at a pace that would have seemed unimaginable just a few years ago. I'm not being alarmist; I'm simply stating the facts."
In a way, Hussein is correct…