By Craig Andresen Right Side Patriots http://www.americanpbn.com/
Since 2011, Donald Trump has given some $358.700 to Republicans, that much is true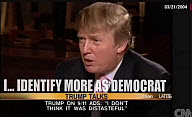 and a figure oft cited by his blind following so as to offset any mention of Trump's donations to liberals but it falls completely flat when put in factual perspective.
As matters of easily researched public records, Donald Trump has stood for and financially supported liberals and the liberal agenda to a point his followers would much rather not admit.
To be exact…between 1989 and 2010, Trump's political donations were nearly evenly split between both sides of the aisle with slightly more, $314,300.00 going to the left than the $290,600 that he donated to the right but that all changed radically as Trump himself became more immersed in political aspirations of his own.
After Trump's inglorious presidential run on the Reform ticket in 2000, Donald J. Trump and his son, Donald Jr., donated $77,200.00 to liberals compared to only $24,250.00 to Republicans during the 2006 midterm elections.
But there's more…much more…