Be sure to Click LIKE at the bottom of this article, and share it everywhere!!
By Craig Andresen – Right Side Patriots on American Political Radio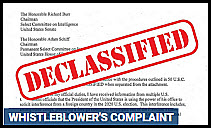 About a week ago, some unnamed "whistleblower" made an allegation regarding a phone call President Trump had last July with President Zelensky of Ukraine, and all hell started to break loose.
Liberals, and even more moderate democrats, without knowing who the "whistleblower" was, without any knowledge of what was said in the phone call, and with zero evidence whatsoever, ramped up their call to impeach President Trump because, they said, he had obviously done something very, very bad…something highly illegal, and in direct violation of the Constitution.
Let's be really, really clear here…those impeachment bloviating liberals and democrats had not even seen the actual "whistleblower" complaint.
The one thing they did know, was that whoever that "whistleblower" was, he, or she, wasn't even in the room when the phone call in question took place.
But whatever was said, the liberals and democrats were sure it was bad. Very…very bad.
Then, last Tuesday…