By Craig Andresen Right Side Patriots http://www.americanpbn.com/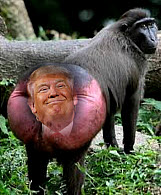 With Thursday night's debate in Houston Texas, Donald Trump made one thing absolutely crystal clear…that he's a thin-skinned, inflamed egress on the southbound end of a northbound baboon.
Ted Cruz and Marco Rubio seemed to have taken the advice I set forth earlier in the week, and for the most part, put their petty differences with one another aside and went after Donald Trump to exposed him as the liberal/progressive agenda backing anything but a Conservative candidate that he is.
Throughout the entire debate, Trump steadfastly refuse to provide a single direct answer to a myriad of direct questions and once again, failed to provide a single element of substance to support any single campaign promise he's made.
Not only that, but mister anti-illegal alien was finally outed, for the world to see, as having hired illegal aliens during the building of Trump Tower and for having had been fined a million dollars by a court for doing so.
In fact, here is just one exchange of many that outed Trump in that debate.