Part 1 of 2 By Craig Andresen – The National Patriot and Right Side Patriots on cprworldwidemedia.com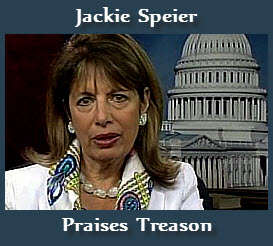 The mere thought of it so disgusts me, so repulses me that my blood boils.
According to a California liberal/socialist member of what must be the Islamic caucus in the House of Representatives said something SO vile it nearly made me puke.
During an MSNBC interview, Jackie Speier told Craig Melvin that the CIA should APOLOGIZE to…TERRORISTS…over the treatment a few received during questioning as outlined in the 500 page Finestein "TERRORISTS ARE THE REAL VICTIMS" summary of the 6300 page "ALLAH BE PRAISED" report compiled by liberals over the past 5 years regarding enhanced interrogation techniques that ended 6 years ago.
According to this Speier piece of trash…"The agency (the CIA) needs to do some soul searching."
Really?
The CIA needs to do some soul searching. NOT ISLAM mind you but…it's the CIA that needs to "do some soul searching."
Listen Speier, you sorry excuse for a human being…