By Craig Andresen Right Side Patriots http://www.americanpbn.com/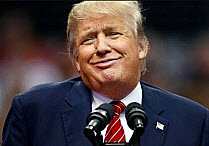 In attempting to understand the whole Pied Piper of blind sheep phenomenon that is Donald Trump, I have reached some conclusions which, in turn, have led to more questions than answers.
People are angry. I get that because I'm angry too. We're angry that after turning the House red…nothing happened the way we were hoping it would happen. After turning the Senate red too…still nothing.
We have a majority in both houses of congress and yet those we elected to put a stop to Obama and his socialistic crap have done exactly nothing to put a stop to Obama's socialistic crap. We elected them to stop government waste. We have MORE government waste. We elected them to strengthen the military and help our Veterans. We still have a military in decline and our Veterans aren't being helped.
We elected them to not make deals with the ilk of Iran. We have a deal with Iran.
Yeah, I'm plenty mad so I get it.
We elected these people to the House and to the Senate to stop Obama's pro-Islam, anti-America agenda and to stop him in his tracks on everything from Obamacare to GITMO…from Benghazi to Black Lives Matter and from unconstitutional Executive orders to blanket amnesty and what have we got for our election efforts?