Article Co-Written by Craig Andresen and Diane Sori – RIGHT SIDE PATRIOTS on cprworldwidemedia.com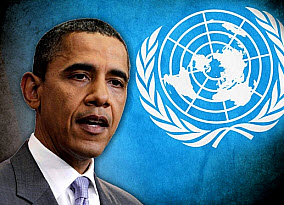 Fact: they who control the U.N. and they who control the White House control the world. And that fact is one of the reasons why Barack HUSSEIN Obama does not want to stop ISIS. Obama is well aware that while ISIS can build the caliphate by force ISIS lacks the capability to manage the affairs of a dictatorship, and know that the caliphate is nothing but a dictatorship in disguise…just as Islam is a political system in the guise of a religion.
A brutal and barbaric dictatorship such as the caliphate would have no interest in seeking recognition or legitimacy from the United Nations nor from any of its members, however, control of the United Nations and one of its most influential and powerful members would indeed fit their agenda. Enter center stage Barack HUSSEIN Obama and the United States of America which, we believe, his intention is to make the 58th Islamic state.
And how would he do this…know that when this, his last term as president is up, Barack HUSSEIN Obama will NOT 'fade away' as some presidents do for his entire presidency has been orchestrated as a stepping stone to bigger things…to bigger things involving the one-world government of the caliphate. And he intends, we believe, to do this by using the U.N. to reach that goal.
But to use the U.N. Obama needs someone by his side who can craft deals, manipulate heads of state, and who can lie and cheat with abandon, and who can cavalierly throw aside those who get in the way of the ultimate goal. And one person alone comes to mind…Obama's puppet master…Iranian born, Muslim Brotherhood supporter, and Iranian.com's 'person of the day'…