By Craig Andresen – Right Side Patriots on American Political Radio
Well, the time has come to update folks regarding the Jill Stein/Hillary Clinton recounts in three states…Michig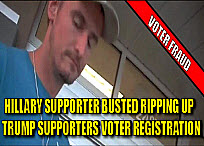 an, Wisconsin and Pennsylvania.
Hillary Stein-Clinton was looking for voter fraud in those states…and she, or they, found it.
There was, indeed, voter fraud…on behalf of Hillary Clinton…of which those of us who pay attention to such things knew would happen well in advance of last month's election…and the recount efforts have now exposed it for all to see.
First…let's have a look at Michigan.
In Michigan…which was "to close to call" on election night, although in our election night coverage, Diane Sori and I officially, and as it turned out, rightfully called Michigan for Donald Trump days before it was made official…the Hillary Stein-Clinton recount focused the bright light of reality directly where Hillary didn't want it.
In 50% of Detroit's precincts, no recount could be done because…the numbers of the votes counted by machines was decisively higher than the number of votes cast by those who signed in at those precincts.
Oddly, if not predictably…