Be sure to Click LIKE at the bottom of this article, and share it everywhere!!
By Craig Andresen – Right Side Patriots on American Political Radio
A Kentucky catholic school has issued an apology to a group of native Americans for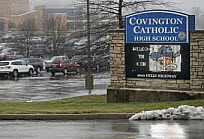 "mocking" them at an event a week ago at the Lincoln Memorial in Washington D.C. but if you ask me, it is the native Americans who owe those students the apology.
According to the diocese, the students might face expulsion.
In issuing a joint statement, the Roman Catholic Diocese of Covington and Covington Catholic High School apologized and stated that they are investigating, and will take "appropriate action, up to and including expulsion."
Naturally, liberals and the Pravda mainstream media seized on the event to scream "racism" because some of the students were wearing "Make America Great Again" hats, and their socialist collective outrage was focused on one particular student, Nick Sandmann, who stood there, smiling, as native American, Nathan Phillips, a 64-year-old man stood about six inches from the student…beating a drum, and chanting.
If all it takes for a catholic school, and their diocese to issue an apology and threaten to expel their students is an absurd claim by liberals…then it is the school and their diocese that should lose the support of their community.
Here's what really happened…