By Craig Andresen on July 28, 2014 at 5:15 am
Most people would be apt to consider any farmer who was trying to milk a BULL to be a complete idiot but to be honest, it rather depends on who the farmer IS and the name of the bull….don't you think?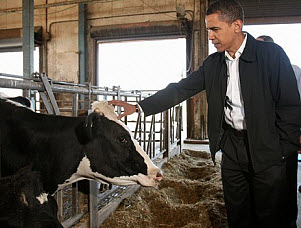 Let me explain.
Let's say, for instance, that the farmer is Barack Hussein Obama.
And, for the sake of argument, the BULL'S name is…Hamas.
Liberals…pay attention…this is for you…
Picture in your minds, Barack Hussein Obama sitting on one of those little three legged milking stools with a bucket, he's got his hands up under that old bull…and he's just a pullin' and a pullin' for what little he's worth.
I think there's two things here we should all be in agreement over.
1)      What's fillin' that ol' bucket ain't nothing you'd want to be pourin' on your Corn Flakes and…
2)      That ol' bull's gonna be mighty appreciative.
There, in a nutshell, is the Obama doctrine as applied to the current situation between Israel and Hamas.
Perhaps a further explanation is needed…
Last week, try as he might, John Kerry was negotiating for some sort of a cease fire between Hamas and Israel on behalf of the Obama regime but exactly what sort of "DEAL" was he trying to make?