By Craig Andresen – The National Patriot and Right Side Patriots on cprworldwidemedia.net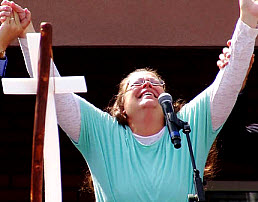 They have been successful.
The far, FAR religious right, those driven by those who pretend to be Christians and Conservatives, have successfully, in their minds, fabricated a martyr out of a useful, liberal idiot…Kim Davis…and they now stand on their holier-than-thou island and claim Davis was jailed solely because of her religion. They claim she was persecuted…only because of her Christian beliefs…not prosecuted for her contempt and disorderly conduct as anyone would be had they done in court what she did there.
"Jailed for being a Christian," they are saying…"Christianity now against the law," they claim.
Nothing could be further from the truth.
Christians are not being rounded up in this country. They're not being kept from attending whichever branch of church they choose. Churches are not being shut down in our country and the people are still free to worship in their own way.
It's not that way in other parts of the world but these holier-then-thou Christians, those laser focused on Davis, don't give a damn. Christians MURDERED in other parts of the world…rounded up, burned alive, shot…hanged, nailed to crosses, raped, tortured, beheaded and all just for being Christians…but where ARE those who have stood…loud and proud…for the woman who refuses to issue a marriage license in the face of all of that, from other parts of the world where there really IS a war on Christianity going on?