Be sure to Click LIKE at the bottom of this article, and share it everywhere!!
By Craig Andresen – Right Side Patriots on American Political Radio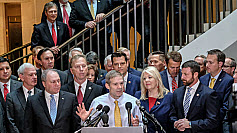 It is the debacle of all debacles, and it shouldn't sit well with any American regardless of political affiliation, but it seems to be sitting okay with far too many democrats.
What's happening in the U.S. House is beyond anti-American…it's exactly what we could have expected from the old Soviet Union, and there's a great more to it than a lack of transparency. The impeachment deluded democrats (The IDD) have gone full banana republic, their sense of a judicial committee investigation is full-on kangaroo court, and their intelligence committee is 100% devoid of even a hint of a shadow of intelligence.
Last week, the Republicans of the House made a bold statement, and took bold action when they literally stormed the closed doors of yet another meeting of the coup klutz clan. It was just about as bizarre a moment as one could imagine, but before I get to that, let me tell you exactly what led to the crashing of the gates.