By Craig Andresen Right Side Patriots http://www.americanpbn.com/
The epic meltdown continues.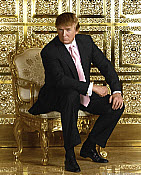 It used to be that we had to wait for a debate to watch Donald Trump meltdown but now that the debates are over, we are being treated to a daily meltdown by his Trumpness and it shows no signs of letting up anytime soon.
News broke over the weekend that Ted Cruz, it seems, has secured more delegates in Louisiana, despite having finished second there, and due to Cruz's ability to woo and win over unpledged delegates along with his ability to corral five of the top six delegates regarding Louisiana's convention rules committee.
When his Trumpness became aware of this fact, on Easter Sunday, he tweeted his mixture of astonishment and anger and threatened a lawsuit over it.
It's a lawsuit, should he even file it, that he will lose because there is nothing whatsoever illegal about it. It is simply a chess game and Cruz is better at it than is Trump. No changes were made to any rules and Cruz did nothing more than do what any candidate, including Trump should have done. He stayed engaged with the delegates, made his case on policy and substance and won those delegates over.
The same situation is happening in Georgia and now we learn it is happening also in Virginia because, unlike the narcissistic Trump, who thinks it all about him, Cruz knows it's all about the delegates themselves and Cruz has taken the proper steps to make his case, post primary, while Trump has simply walked away, believing he had those delegates in the bag.
There is also another reason for Trump losing these delegates…