By Craig Andresen – Right Side Patriots on American Political Radio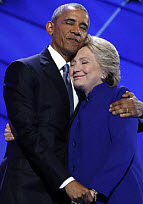 For 8 long and divisive years, Barack Hussein Obama has epitomized everything that is, or ever has been wrong with our country, and as he prepares to finally get the hell out of our White House, leaving as much scorched earth in his wake as possible, he is hoping in desperation that Hillary Clinton picks up where he left off.
Obama wanted, so badly wanted to be the one who destroyed the Republic and replaced it with a Marxist society. He wanted to "fundamentally transform America" into something the Founders and Framers wouldn't recognize, wouldn't have ever wanted and never would have stood for…a socialist, crumbling blight on the world stage.
He started it, but he couldn't finish it.
Hillary Clinton would be the third term of an Obamaesque regime and as hard as it is to believe, she is more dangerous than he.
Obama has been a puppet…