By Craig Andresen – The National Patriot and Right Side Patriots on cprworldwidemedia.net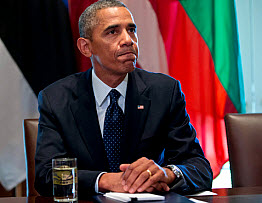 Barack Hussein Obama is the weakest U.S. president in history and that fact is now on glaring display on the world stage.
Obama's intent to create a vacuum of power in Syria, to be, in his hopes, filled by Islamists has exposed his weakness for all to see as Russia takes the lead in truly fighting the Islamic terrorists there. Rather than doing what Obama has done for the past 13 months…bombing empty warehouses and pin-prick attacks on vehicles…Putin has Russian SU-30's raining hell upon the Islamist command and control centers.
Obama's weakness was further highlighted last week when John Kerry played second fiddle to Russia's Lavrov in a press conference after Putin made his first appearance and speech at the United Nations in a decade.
Now, to further relegate Obama and the U.S. under Obama's control to the sidelines…China is preparing to send warplanes into the skies over Syria, working in concert with the Russians to stop ISIS in their Islamic tracks.