By Craig Andresen – The National Patriot and Right Side Patriots on americanpbn.com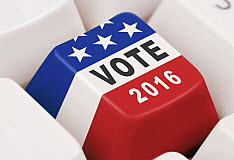 Well NOW, let's take a few moments here to get a clear picture of the campaign for 2016…a snapshot…a moment in time, frozen so as to really take stock of the current situation.
Shall we?
Dr. Ben Carson is whining, Donald Trump is threatening law suits, Sanders is blubbering that Clinton isn't enough of a socialist to deserve the liberal/socialist nomination, Clinton is doing her level best to ignore the mountains of evidence that will lead to her indictment, several candidates have dropped out of the race, others that should…haven't and Jeb Bush's donors…many of them…want their money back.
I've been to a three ring circus before and while this whole thing does bear some resemblance, I believe it comes closer to being a three ring FREAK show.
First of all…Dr. Ben Carson. Before the Ted Cruz campaign sent out an email, reporting exactly what had been delivered via CNN, you were polling in fourth place at 9% of the Iowa vote. WHILE that false report was out there…you were polling at 9% of the Iowa vote and AFTER it had been retracted but while the Cruz camp was still asking your supporters to caucus with Cruz…you FINISHED the night with 9.31% of the vote.
Please explain for everyone exactly how devastating the Cruz camp email was to your final tally.
Then there's Donald Trump who is threatening to sue anybody he thinks is responsible for his second place finish in Iowa. He claims he's going to sue Cruz because of the caucus night email. He's going to sue Cruz for the prior week's mailer. He's going to sue Cruz for being born. Hell…I wouldn't be a bit surprised if he threatens to sue Cruz because the rhyming campaign slogan…"Choose Cruz" comes across more positive than the rhyming slogan…"Dump Trump" does.
And now..