Be sure to Click LIKE at the bottom of this article, and share it everywhere!!
By Craig Andresen – Right Side Patriots on American Political Radio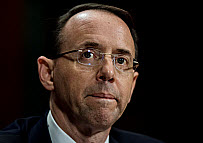 Right about now, Rod Rosenstein should be sweating like a Kardashian on Jeopardy, but he is far from the only one who should be feeling the extreme heat.
Last Friday, the NY Times published a piece stating that Rosenstein had suggested wearing a wire to secretly record President Trump, as well as suggesting employing cabinet members to do the same, and then use the 25th Amendment to deem President Trump unfit to hold the office, and remove him from office.
Make no mistake…that is a coup attempt…a plan to overthrow a sitting, duly elected President of the United States.
In no uncertain terms…