By Craig Andresen – The National Patriot and Right Side Patriots on americanpbn.com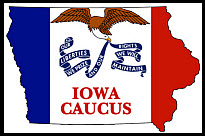 Okay, the Iowa Caucuses, or Cauci (the plural form) are over and what did we learn from the fracas?
Well…
We learned that a full 43% of Iowans identify themselves as socialists and of that 43%, they had to toss coins in order to determine which of their socialist candidates would be awarded which socialist delegates. Hillary (soon to be indicted) Clinton squeaked out an extra delegate over Bernie (I intend to hike your taxes beyond bejesus) Sanders.
And how did those coin tosses go? Well…Hillary won 6 in a row. The last time a Clinton got that lucky calling heads or tails…it was Bill…with Monika.
The 'get off my lawn" voters can relax though as Sanders will win the communist vote by a wide margin next week in New Hamster…er…New Hampshire.
That is what we learned on the government needs to take care of us from cradle to grave side of the aisle, but what was it we learned on the RIGHT side of the American aisle?
Plenty…