By Craig Andresen – The National Patriot and Right Side Patriots on cprworldwidemedia.net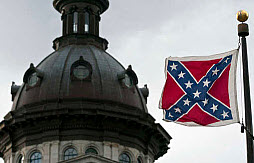 Did Nikki Haley really cave to political correctness in now agreeing that the Confederate flag be taken down from the North Carolina statehouse?
And why are Conservatives all bent over that flag being taken down?
There are plenty of people out there turning themselves inside out trying to make a case for leaving that flag flying and they're using the flag's design to justify it.
I have seen thousands of comments and posts regarding the Confederate flag over the last week or so and many of them are along these lines…"Neither the design nor the content of the flag has anything to do with racism, slavery, hatred or white supremacy. Nothing."
That of course, is correct…there IS nothing in the DESIGN of the Confederate flag that denotes racism. But…is the design of the rebel flag all there is to it?
Look…I know about the Confederate flag design…