By Craig Andresen – The National Patriot and Right Side Patriots on cprworldwidemedia.com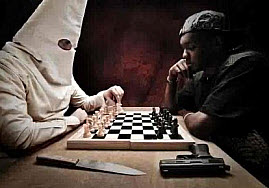 There is no black America.
There's no white America either but as long as there is an NAACP, a New Black Panther Party, a Congressional Black Caucus and a black community there will be a divide between the races.
Don't think for one minute that the KKK or the Aryan Nation and other such groups aren't to share in the blame. They are and they need to go away too.
It doesn't matter what color your skin is…if that color is what you think about when you get up in the morning, what you think about all day long, the basis for your decisions and your behavior and what you think about when you go to bed…
You are the problem and not a part of any viable solution.
If you seek an end to real racism in this country, don't go around manufacturing fabricated cases of racism because when you dilute it nobody is going to pay any attention to it.
Seek justice where justice is due and not retribution or revenge as the latter two will solve nothing and will create nothing but animosity. Justice is gained through the courts. Revenge and retribution is gained on the streets and only brings more of the same from those who are the victims of it.
Life isn't fair…