By Craig Andresen – The National Patriot and Right Side Patriots on cprworldwidemedia.com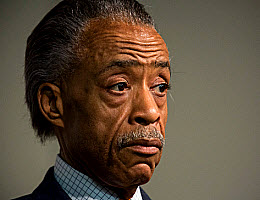 Poor Al Sharpton.
He's received death threats in the wake of the ambush murders of two New York City police officers by a black, Muslim thug and criminal.
Sharpton, who just a week prior led a march through the streets of NYC where "WHAT DO WE WANT? DEAD COPS!! WHEN DO WE WANT THEM? Now!!!" was chanted over and over and over again…is now whining that HE has received death threats.
Well…too bad.
He should call the police and report it.
And what 'crime' did Officers Rafael Ramos and Wenjian Liu commit? They were in uniform, sitting in their patrol car, on a detail to be more visible in a high crime neighborhood…a neighborhood where black on black crime runs rampant…to make that neighborhood safer for the people who live there.
They weren't doing any more than a 28 year old off duty officer in north St. Louis was doing. That officer is in critical but stable condition after HE was shot by thugs on Friday night.
Nothing different than what officer Charles Kondek, a 17 year police veteran and father of 5 was doing on Sunday when HE was shot…and killed…