By Craig Andresen – The National Patriot and Right Side Patriots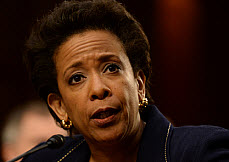 "The Department of Justice is committed to giving justice-involved youth the tools they need to become productive members of society."
– The Obama regime's Attorney General Loretta Lynch
Once again, the Obama regime and liberals at large are trying to spare the oh-so-delicate feelings of an element of our society that simply doesn't give a crap about anything, anyone else and for that matter, themselves.
What Lynch is talking about, what she is calling "justice-involved youth" are punks, thieves, delinquents, thugs, drug users and whatever else today's youths do to break the law. It seems, to her, the Obama regime and assorted liberals and socialists, all those little criminals need is a new label, a round or 2 of Kumbaya and an atta boy or girl to make them productive members of society.
They aren't society's losers…not according to the liberal/socialist agenda anyway…what they are is participants and being called "justice-involved youths" is their trophy…their reward for just showing up.
We can't damage their complete lack of self-esteem by calling them exactly what they are now can we? No…we must somehow find a way to make them feel more proud of their criminal activity by calling them what they are most certainly not.
Justice-involved?