By Craig Andresen – The National Patriot and Right Side Patriots on cprworldwidemedia.com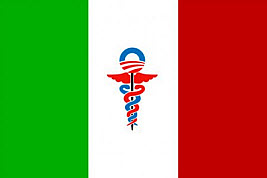 Obamacare…meet amnesty.
Amnesty…meet Obamacare.
Americans…bend over and grab your ankles.
The two most atrocious signatures of the Obama regime are about to collide and the scene of the accident is not going to be pretty. To be clear, the Lame Ducktator would rather have you all focused on fabricated racism than this and that is exactly why I am about to expose it.
To fully understand this nightmare, we have to first delve into Obamacare.
Senator Tom Harkin, a liberal from Iowa and one of the co-authors OF Obamacare is about to be sent home for good. He lost his seat to Joni Ernst last month and make no mistake, Obamacare looms large in the decision of Iowa's voters.
According to Harkin and regarding Obamacare…"We blew it. What we did is we muddled through and we got a system that is complex, convoluted, needs probably some corrections and still rewards the insurance companies extensively."
Remember what one of the architects and close Obama advisers of and on Obamacare, John Gruber had to say about Obamacare: "It was written in a tortured way to make sure CBO did not score the mandate as taxes. If CBO scored the mandate as taxes, the bill dies. "
Now, connect the dots…