By Craig Andresen – The National Patriot and Right Side Patriots on cprworldwidemedia.net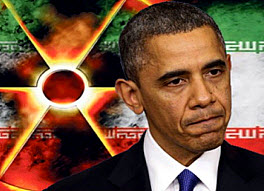 This bit of information was barely a blip on the 24 hour news cycle last week and the mainstream media dropped it like it was radioactive.
Iran, after acquiring the full capitulation of the Obama regime and only after the Obama regime had acquired enough votes to uphold Obama's planned veto of a vote to deep-six the "deal" with Iran has Iran announced that, lo and behold, they have discovered new, substantial deposits of uranium ore.
During the "deal" making…it was widely distributed than Iran LACKED sufficient uranium deposits from which to mine enough of the stuff to supply their "peaceful" application of nuclear energy much less, supply the building of nuclear weapons and that they would likely have to IMPORT uranium just to keep their program up and running.
Then…with the "deal" done and the votes in hand…SURPRISE…Iran has JUST DISCOVERED more uranium than they apparently know with what to do.
They didn't JUST DISCOVER this new source of uranium and if you believe they diid…allow me to make you a great deal on Arizona oceanfront property. They knew exactly where this stuff was all along. They knew, they hid it and THEN…they discovered it which is a pretty clear indicator of how they will be running their nuclear facility…Parchin…the one that THEY and ONLY they are allowed to inspect.
The "deal," being voted on here in the U.S. this week, already has Iran playing the hide and seek game yet liberals in congress, and surrender simps from the right side of the aisle, are willing to let the "deal" stand.
But there's more to this than simply new found uranium that really isn't newly found at all…