By Craig Andresen – The National Patriot and Right Side Patriots on cprworldwidemedia.net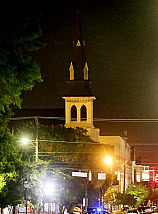 Wednesday night, the scene in Charleston South Carolina was chaotic. Nine people including the pastor had been gunned down…killed…inside their church during a service and the gunman was on the loose.
Police were everywhere, some with dogs, others in helicopters, many on foot and more in
vehicles…searching, interviewing, looking for evidence, speaking with reporters, trying to get a grip on what had taken place shortly after 9pm inside the Emanuel African Methodist Episcopal Church, an historic church dating all the way back to 1816 and one of the first black churches in our nation.
Authorities there and elsewhere are calling it a hate crime and they are 100% right to do so.
The shooter, caught entering the church on surveillance cameras was a white man, appearing to be in his early 20's. He went in, watched the service for nearly an hour and then, according to surviving witnesses…stood up and opened fire. By the time he fled, just moments later, six women and three men…one of the men being Clementa Pinckney, the church pastor and a South Carolina State Senator…were dead.
Obviously, it was a hate crime. Nobody walks into a church and opens fire on those inside…