By Craig Andresen – The National Patriot and Right Side Patriots on cprworldwidemedia.net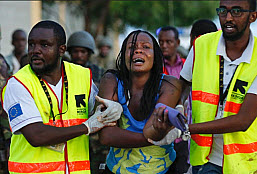 Last week, Islamic terrorists…ISLAMIC TERRORISTS…stormed a university in Kenya and barbarically MURDERED 147 Christians…CHRISTIANS. According to Collins Wetangula, the Student Union Vice Chairman…"If you were a Christian you were shot on the spot."
Other reports stated clearly that the gunmen were asking everybody to quote from the Quran. Those that could were allowed to live…those who couldn't…were murdered.
The group responsible for the murders was al-Shabaab.
Translated…al-Shabaab means the Youth…in Arabic and the terrorist group is a radical ISLAMIST wing of the Union of ISLAMIC Courts from Somalia that also enlists ISLAMIC JIHADISTS from neighboring countries…the UK and the U.S. to make up it's nearly 9000 members.
This is the exact same ISLAMIC TERRORIST group that, only 2 years ago, staged an attack in the Westgate shopping center in Nairobi that left 68 dead and in that attack, just like the one last week on the campus of Kenya's Garissa University…reciting verses from the Quran was the key. Those who could…lived while those who couldn't…died.
CLEARLY…al- Shabaab is an ISLAMIC terrorist group and just as clearly…their aim is to kill CHRISTIANS which takes us to last week's statement from the Islamist in the White House regarding the massacre at Garissa University…