By Craig Andresen – The National Patriot and Right Side Patriots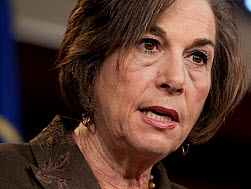 Illinois Democrat Rep. Jan Schakowsky was doing a radio interview a few days ago and she tried to make a case that was devoid of logic and any aspect of intelligence.
Before I continue, allow me to point out that Schakowsky is a congresswoman, from ILLINOIS and that IS important to this article.
Schakowsky's inane point was this…because of the recent terrorist, the recent ISLAMIC terrorist attacks in Paris…we should adopt stricter GUN CONTROL laws in OUR country.
Here's what she had to say on the matter…
"Obviously it is frightening for every western country, but I do want to remind you that before we killed a jihadist named Awlaki, he did a video that said to Americans, 'Join the jihad and get guns,' because it's so easy in the United States of America to get a weapon. And that ought to be a chilling reminder because, aside from blowing themselves up, which is of course is not about small weapons. These people used the kinds of weapons that are still available in the United States of America. I think it ought cause us to have another consideration of sensible gun safety laws."
You have got to be kidding me…