By Craig Andresen – The National Patriot and Right Side Patriots on cprworldwidemedia.net
Of all the blithering…blathering nonsense.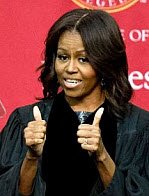 There seems to be a few points the dictator's wife of record left out of her graduation speech last weekend and I am more than happy to fill in the blanks.
MOOOOOOOchelle Obama gave the commencement indoctrination at Tuskegee University last weekend and during her 30 minutes of shame…she did her damnedest to incite racial hatred.
Among her words were those related to racial overtones in America as she spewed forth…
"They're rooted in decades of structural challenges that have made too many folks feel frustrated and invisible, and those feelings are playing out in communities like Baltimore and Ferguson and so many others across this country."
Oh really?