By Craig Andresen – Right Side Patriots on American Political Radio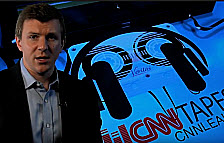 Thanks to Project Veritas, we now have indisputable proof that CNN is everything President Trump has said they are…a fake news organization…because they, themselves, have admitted to it.
With their hidden cameras, Project Veritas has caught CNN blue handed saying that their "coverage" of the whole Trump/Russian collusion fabrication is for ratings, that it is, indeed, a BS story, and that no collusion evidence is to be had anywhere.
Apparently, CNN has all the security of Hillary's private server and private email account, and they vet the people they actually tell the truth to the way Obama's regime vetted "refugees" seeking to become an invasion force emanating from Islamist nations.
Last week, during a White House press briefing, Sara Huckabee Sanders more or less went off on the fake news industry which drew a stern rebuke from CNN's Jim Acosta when he called her statements "inflammatory."
Well…