Be sure to Click LIKE at the bottom of this article, and share it everywhere!!
By Craig Andresen – Right Side Patriots on American Political Radio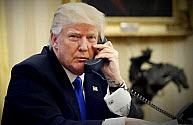 Well, they're at it again. The democrats are once again trying to blame President Trump for their own misdeeds, and they've got their collective panties all wadded up.
At issue this time is a phone call. We can assume it is about a call made by President Trump to the new President of Ukraine near the end of July. We can assume that's what it is, but we really have no confirmation of that.
Here's what we knew when this whole goofy thing broke late last week…
An "unnamed" whistleblower from an "unidentified" former intelligence officer as filed an "unknown" complaint about "something" President Trump "allegedly" said to an "unnamed" foreign leader regarding an "unspecified promise" about "some sort" of "concerned conduct" from "outside" of the "intelligence community" that doesn't relate to "intel activity."
Naturally, one could see why liberals were hopping mad. No, actually, one couldn't because given the depth of that near allegation of…something…nobody was exactly sure at that point whether this dealt with misconduct from the Oval Office, or perhaps the Loch Ness monster had…farted.
Did I mention that the "unidentified former intelligence officer" did not have first-hand knowledge of the phone call?