Be sure to Click LIKE at the bottom of this article, and share it everywhere!!
By Craig Andresen – Right Side Patriots on American Political Radio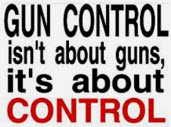 Living in a world full idiots is one thing. Living in a world run by abject idiots is something else altogether.
By now, we all know how liberals feel about guns. They detest them. They don't want you to have them, and if you do have them, liberals don't want you to be able to keep them, and they demand that you get them registered so that they will know where  you and your guns live, thus making it easier for liberals to come and get them.
There's a second reason for why liberals want you to register your guns. I wouldn't be a bit surprised if they intend to create a gun owner website…like the sex offender websites…where good lilt liberals can visit to see where not to buy a house, and where bad little liberals can map out which houses to rob.
A couple of weeks ago, some liberal jackass walked into the municipal building in Virginia Beach, Virginia and opened fire killing 12 people.
There was something special about that building too…