Be sure to Click LIKE at the bottom of this article, and share it everywhere!!
By Craig Andresen – Right Side Patriots on American Political Radio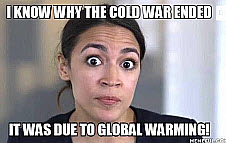 It has long been said that kids say the darndest things, and while that may well be true, it can also be said with certainty, that liberals say the dumbest things.
When it comes to the dumb things liberals say, one particular liberal just can't help herself, and despite being called out over her abjectly stupid musings time and time again, Alexandria Common Core-tez just won't shut up.
It seems that she is blissfully unaware of just how moronic she sounds nearly every time she opens her yap and spews forth her nonsense, but in the grand scheme of things, we need to let her continue unabated because with every utterance, she is galvanizing Republicans to vote against liberals in 2020.
Over the past couple of weeks, AOC has made a series of inane and idiotic comments, some of which have even left the left doing face-palms.
Common Core-tez, who has often taken to video selfies to air her deepest thoughts to liberal idiots who follow her social media accounts the way that blue bottle flies follow the aroma of horse apples, did so again last week with this stunningly absurd bit of liberal wisdom…