Be sure to Click LIKE at the bottom of this article, and share it everywhere!!
By Craig Andresen – Right Side Patriots on American Political Radio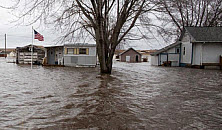 I'd like to take a bit of your time to talk to you today about the weather.
Sorry…I mean global warming.
Sorry…I meant to say…climate change.
Here in Nebraska, where I live, and you may not know where exactly that is so let me explain it this way…you know how, when you're watching some weather lady give the national forecast on TV…well…we're located directly behind where she stands while lying the rest of you about what it's going to be like where you live.
Anyway, here in Nebraska last week…we had quite the weather…global warming/climate change event. We're used to the climate changing here about every five minutes but last week was a doozy. Last Tuesday, it was beautiful, 50 degrees and sunny. Then last Wednesday, it started raining like a cow pissing on a flat rock from 2 in the freakin' morning until it turned to snow at around 4 in the afternoon. The wind came up to about 60 mph and it snowed and blowed (a Nebraska saying) or snew and blew for the rest of you until about 2 in the afternoon on Thursday.
Well…