Be sure to Click LIKE at the bottom of this article, and share it everywhere!!
By Craig Andresen – Right Side Patriots on American Political Radio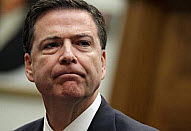 "Investigate the investigators if you must. When those investigations are over, they will find the work was done appropriately and focused only on discerning the truth of very serious allegations. There was no corruption. There was no treason. There was no attempted coup. Those are lies, and dumb lies at that."
That was the latest statement put out as part of an op-ed last week by former FBI Director, James Comey regarding bias in his FBI related to the investigation into the Russian collusion fabrication during the 2016 campaign.
As a result of that investigation, which, let's face it, was a choreographed, orchestrated witch hunt based on a fraudulent, and manufactured dossier compiled from Russian agents, assembled by a former British spy, and paid for in part by Hillary Clinton, and in part by the FBI itself under James Comey, has caused the majority of the American people to lose faith, and trust in our nation's top law enforcement agency.
Let me be clear here. There are plenty of good, solid FBI agents working in that agency today, just as there were in 2016, and those good agents should not be held accountable for what a few did, but…