Be sure to Click LIKE at the bottom of this article, and share it everywhere!!
By Craig Andresen – Right Side Patriots on American Political Radio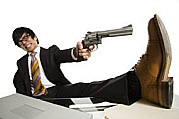 For a party hell-bent on gun control, the democrats sure have been shooting themselves in both feet every time they shoot off their mouths, and in Joe Biden's case, he can do both at the same time since he seems to always have at least one of his feet permanently lodged in his mouth.
Democratic presidential candidate Robert Francis 'Beto' O'Rourke, out of of Texas has said, "Hell, yes, we're going to take your AR-15, your AK-47."
Well that's a hell of a thing to hear from someone with an arrest for burglary to his credit. Yes, the charge was dismissed back in 1995, as was his arrest for DWI in 1998. I'm willing to bet Beto wasn't too concerned about his privilege back then.
After Beto made the, "hell yes…" remark, Republican Texas state Rep. Briscoe Cain fired a tweet O'Rourke's way stating,, "My AR is ready for you Robert Francis." Naturally, Bobby Francis claimed that as a threat, and said…