By Craig Andresen Right Side Patriots http://www.americanpbn.com/
Yesterday, in "Trump – Unfit to Serve…Part 1 of 2" I outlined several recent events and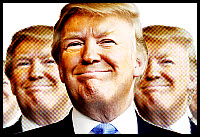 Donald Trump's reactions to them while also touching upon Trump's more generally known characteristics of being narcissistic, arrogant and demeaning.
But to really, truly grasp the inner workings of Donald Trump's mindset, we most look at other character traits he possesses.
While Trump's followers applaud these traits, and excuse them as being not politically correct, others don't care for his behavioral traits, are annoyed by them, or are repulsed by them. It has been well-known for some time that Trump's unfavorable ratings were quite high but just a couple of days ago, new polling suggests that his unfavorable ratings have now reached 70% which is historically, a record high since this data has been compiled dating back to 1992.
Before I provide some of Trump's more basic characteristics, it should also be noted that although Trump is currently the front runner in the 2016 Republican race, his numbers are the lowest since 1980 which, as you will soon see, plays a vital role in his behavior.
Everybody, it seems, has an opinion of Donald Trump, and like him or dislike him…his basic traits are the linchpin which guides all of our feelings toward him.