By Craig Andresen – The National Patriot and Right Side Patriots on cprworldwidemedia.com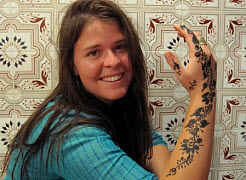 Oh…Poor Kayla Mueller.
 An American…held captive by ISIS and now…dead at the age of 26.  Poor…POOR…Kayla Mueller.
We have been told that she died in a Jordanian bombing of an ISIS position. The Islamic terrorists sent photos of what was left of her to her hopeful parents and they confirmed that their daughter…poor Kayla Mueller was indeed…dead.
The mainstream media and even some Conservative leaning media organizations made her untimely and…tragic death…their front page news.
Sorry.
I just can't bring myself to well up even a single crocodile tear for Kayla Mueller.
If you think she was killed in some Jordanian bombing of an ISIS position…might I suggest you put down the Kool Aid and take a sip of reality instead. ISIS most likely killed Mueller long before those bombings ever took place and we'll most likely never know exactly how or when she died because ISIS was just looking for and taking advantage OF a crisis.
Never let a crisis go to waste…right?
And since nobody else seems to want to put a realistic cause of death tag on Kay;e Mueller…allow me to step up with THIS dose of reality…