Be sure to Click LIKE at the bottom of this article, and share it everywhere!!
By Craig Andresen – Right Side Patriots on American Political Radio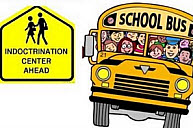 It has long been known that liberals have infected our public school system, and our colleges and universities like a cancer. For decades, they have been indoctrinating students from kindergarten through grad school with the anti-American liberal agenda.
From preaching the liberal sermon at the lectern while deriding any mention of religion, to not keeping score on the playground while selecting winners and losers based on political party affiliation, our schools and institutions of what are supposed to be higher education have become nothing more than indoctrination centers, and asylums of higher indoctrination.
Obviously, the liberal plan has been that such indoctrinated students would eventually become fully indoctrinated adults out and about in the real world, adhering to the indoctrination propaganda they've had shoved down their throats for decades, and passed on to their own children. Well, guess what…we're there.
As disturbing as this is, and as unlikely as it seemed just a few years ago, it has nonetheless come to pass that trickle-down liberal indoctrination is now starting to infect…law enforcement.
As liberalism seems to be invading law enforcement, let me give you a couple of stories upon which to chew, and one that shows a glimmer of hope.